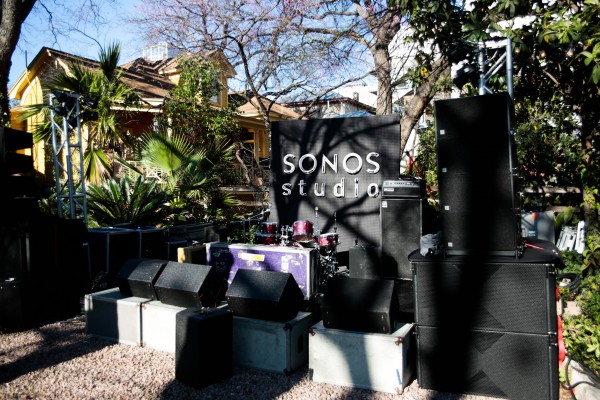 One of our favorite clients Sonos, the maker of HiFi wireless speakers wanted to have a massive presence at SXSW: the interactive, film and music festival taking place in Austin TX in March. The theme of the event was Listen, Play and Create and CC Events was retained to run all production, stage the compound + decorate and help to manage all marketing aspects.
CC Events found a small compound behind the Austin convention center that boasted a large courtyard where two houses and a barn sat. It was the perfect spot for five days of entertaining. The courtyard was where the stage would be set up and where we would host over 17 bands, 65 artists and 5 films screenings. It was also used as an awesome lounge area where CC Events brought in food trucks, juice bars, coffee stands and VIP bars for the over 10,000 attendees to enjoy.
And a HUGE shout out to C3 PRESENTS who were a solid production team on the ground to help make this all happen!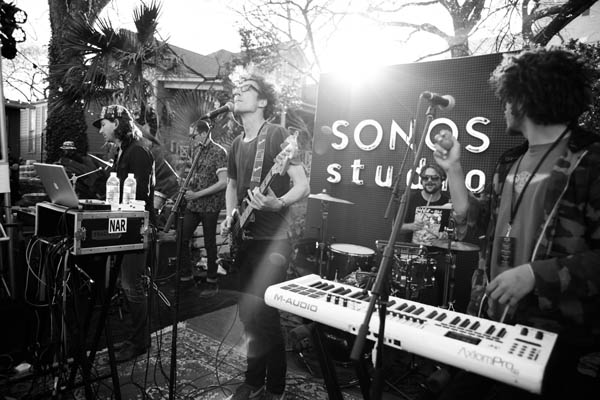 Listen
Guests were able to Listen to live music daily, be a part of panel discussions by Deadmau5 and Jared Leto and watch amazing music documentaries at night. Inside the red house boasted the KCRW lounge where Jason Bentley hosted Morning Eclectic all week from 11am-2pm. CC Events curated and designed the listening room where demo's of Sonos product took place. We also teamed up with BECORE who conceptualized and created the insanely popular neon furniture in one of the product demo room. This room also became a place for all our late night DJ's sets by Passion Pit and A trac who DJ'ed through Sonos system until the wee hours in the morning.
Play
They were also invited to Play in the barn as part of the projection mapping installation name "Playground" created by Zander Brimijoin, Daniel Scheibel, Blair Neal and Aramique from RED PAPER HEART Inside guests would move their bodies to produce sound and play music on the walls through the Sonos controller!
Create
The yellow house is where we would Create. Inside a "Build a Speaker Workshop" and Rudy's Barbershop Pop Up were housed. We set up a full workshop curated by IMPRINT PROJECTS complete with workbenches, Sonos speaker drivers along with interactive tutorial as to how sound is created. A host taught people how to make a speaker from everyday objects like boxes, balloons, duct tape and more. Over 500 speakers were made that week. Next door to the speaker workshop we engaged Rudy's where they gave over 40 haircuts per day!
Overall it was a great event and we ate so many yummy tacos from Peach Tortilla truck! We can't wait to go back next year. And a HUGE shout out to C3 PRESENTS who were a sold team on the ground to help make this all happen!
Here are two videos that capture the full events in action!
Walkthrough #1
Killer performances by some amazing artists including ERYKAH BADU and Robert Glasper Experiment, check out their videos that Sonos produced!

Click on ERYKAH above and it will take you to the videos!